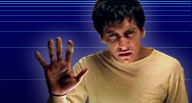 Movie Quotes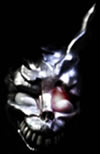 Donnie: (reading poem in class)
A storm is coming, Frank says
A storm that will swallow the children
And I will deliver them from the kingdom of pain
I will deliver the children back the their doorsteps
And send the monsters back to the underground
I'll send them back to a place where no-one else can see them
Except for me
Because I... am Donnie Darko.
---
Donnie:
How can you do that?
Frank:
I can do anything I want. And so can you.
---
Kitty Farmer:
Rose, I don't know if you realize what an opportunity this is for our daughters! This has been a dream of Samantha's and all of ours for a long time! I made her lead dancer! Sometimes, I doubt your commitment to Sparkle Motion!
---
Donnie:
Where did you come from?
Frank:
Do you believe in time travel?

---
Frank:
Don't worry. You got away with it.
---
Frank:
28 days... 6 hours... 42 minutes... 12 seconds. That... is when the world... will end.
---
Gretchen:
You're weird.
Donnie:
Sorry.
Gretchen:
No, that was a compliment.
---

Donnie:
First of all, Papa Smurf didn't create Smurfette. Gargamel did. She was sent in as Gargamel's evil spy with the intention of destroying the Smurf village. But the overwhelming goodness of the Smurf way of life transformed her. And as for the whole gang-bang scenario, it just couldn't happen. Smurfs are asexual. They don't even have... reproductive organs under those little, white pants. It's just so illogical, you know, about being a Smurf. You know, what's the point of living... if you don't have a dick?
---
Donnie:
Why do you wear that stupid bunny suit?
Frank:
Why are you wearing that stupid man suit?
---
Gretchen:
Donnie Darko? What the hell kind of name is that? It's like some sort of superhero or something
Donnie:
What makes you think I'm not?
---
Donnie:in a letter
Dear Roberta Sparrow, I have reached the end of your book and... there are so many things that I need to ask you. Sometimes I'm afraid of what you might tell me. Sometimes I'm afraid that you'll tell me that this is not a work of fiction. I can only hope that the answers will come to me in my sleep. I hope that when the world comes to an end, I can breathe a sigh of relief, because there will be so much to look forward to.
---
Kitty Farmer:
OK ? now, girls. I want you to concentrate. Failure is not an option. And Bethany? If you feel the need to vomit up there, just swallow it.
---
Gretchen:
What if you could go back in time, and take all those hours of pain and darkness and replace them with something better?
---
Donnie:
You are such a fuckass.
Elizabeth:
Did you just call me a fuckass? You can go suck a fuck.
Donnie:
Oh, please, tell me Elizabeth, how exactly does one suck a fuck?
---
Rose Darko:
Do you even know who Graham Greene is?
Kitty Farmer:
I think we've all seen Bonanza.
---
Gretchen:
Some people are just born with tragedy in their blood.
---
Karen Pommeroy:
This famous linguist once said that of all the phrases in the English language, of all the endless combinations of words in all of history, that Cellar Door is the most beautiful.
---
Donnie:
Deus ex machina...
Seth Devlin:
What did you say? What the fuck did you just say?
Donnie:
Our saviour.
---
Rose Darko:
Our son just called me a bitch.
Edward Darko:
You're not a bitch. You're bitchin', but you're not a bitch.
---
Dr. Lilian Thurman:
Donnie, an atheist is someone who denies altogether the existence of God. You're an agnostic. An agnostic is someone who believes that there can be no proof of the existence of God, but does not deny the possibility that God exists.
---
Donnie:
They say right when they flood the house and they tear it to shreds that... destruction is a form of creation," so the fact that they burn the money is ironic. They just want to see what happens when they tear the world apart. They want to change things.
---
Jim Cunningham:
I guess he was sleep golfing?
---
Roberta Sparrow:
Every creature on this earth dies alone.
You need to upgrade your Flash Player