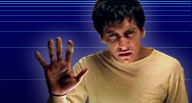 Filming Locations
The film was shot in California.
The "Carpathian ridge" scenes were shot on the Angeles Crest Highway.
Loyola High School, a prominent Catholic school in Los Angeles, California, was used as Donnie's high school.
Donnie awakens in a golf course in Long Beach, California; the hotel where his family lodges is the Burbank, California, Holiday Inn; and the Aero theater where Donnie and Gretchen watch the double feature is a cinema in Santa Monica, California.
The home of Patrick Swayze's character, Jim Cunningham, is the house located at 4252 Country Club Drive Long Beach, California.
The house where the Darko family lives is at 225 Country Club Drive, Long Beach, California, USA.
The Donnie Darko house map
You need to upgrade your Flash Player